Car sharing service based on O2O application
Three years ago, we planned a self-drive car rental project named V-car which intended to deploy at Dalat city.
Unfortunately, the project failed due to deploying too soon to match Vietnamese habits, life style and needs at that time.

Now, we embedded this project into a self-service Eco System with new name - T CAR,
which has not only cars but also motorbikes for rent.

Current Dalat (Vietnam) public transportation
- Although Dalat is popular and representative resort city, public transportation system is terrible.
- Public transportations that tourists and local people can use is not vitalized.
- Lack of Bus and Subway, Only relies to taxis and motorcycles.
- Regarding motorcycle, high risk of safety issues.
- Refarding taxi, there are a lot of overcharging tourists. So there have been constant complains from tourists.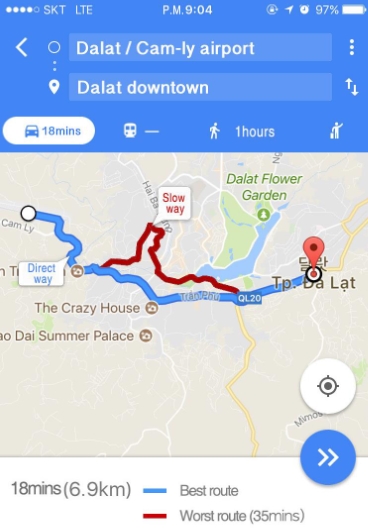 Case of taxi overcharging foreigner tourists
Limits of rental car sevice
- To solve these problems above, we suggest T CAR with sharing terms
- Individuals provided rental service with their own car
- Limits of insurance system; The ratio of the cost on individual at an accident is high
- The cost includes ther driver, gas, and toll fee
- Tourists only can go to previously appointed location with the driver
- To drop by exceptional locations, additional fee is charged
- Unlike Korean rental service system, the usage is very limited
- Limits tourist's traveling routes
- It has functional limitations as a personal(free) transportation method

► "To solve these problems above, we suggest T CAR with sharing terms."

Item details

Sign In
After the registration of user's drivers license (1 year must pass fromm the commence date of the license) and payment method(bank account, credit card, prepay card), the approval will be done and the user is on the go with T CAR.

Car Reservation
- After being accepted through Sigh In, users are allowed to use T CAR rental service.
- Reservation is done via Main Homepage or Application (Android/Iphone)
- If the reservation is registered, users receive registeration confirmation message via mail or text message.



Using T CAR
- Start T CAR application and users can control car door with smart key in the application. Or, users can control doors by accessing membership card on the devise attached to the front window of the driver seat.
- For reserved time, users can control the door via moblie application smart key or membership card.



Car Return
- After returning the car on the reserved site at reserved time and lock the car with mobile application or membership card.
- After the location is confirmed by GPS link, users receive return confrrmation message on their mobile phone.



Payment
** Basically, payment includes rental fee and insurance fee.
- Rental Fee: Car usage fee(time based, per hour)+driving fee(under 30km is free of charge, starting from 30km fee charges per 1km)
- Insurance fee: Insurance company load 80%, user load 20%
- After reservation, payment of rantal fee and insurance fee is done 15 mins before reserved usage.
- Penalty: Cancellation penalty is charged before the use by grade according to the period.


Canculated Result
< Example of O2O service application >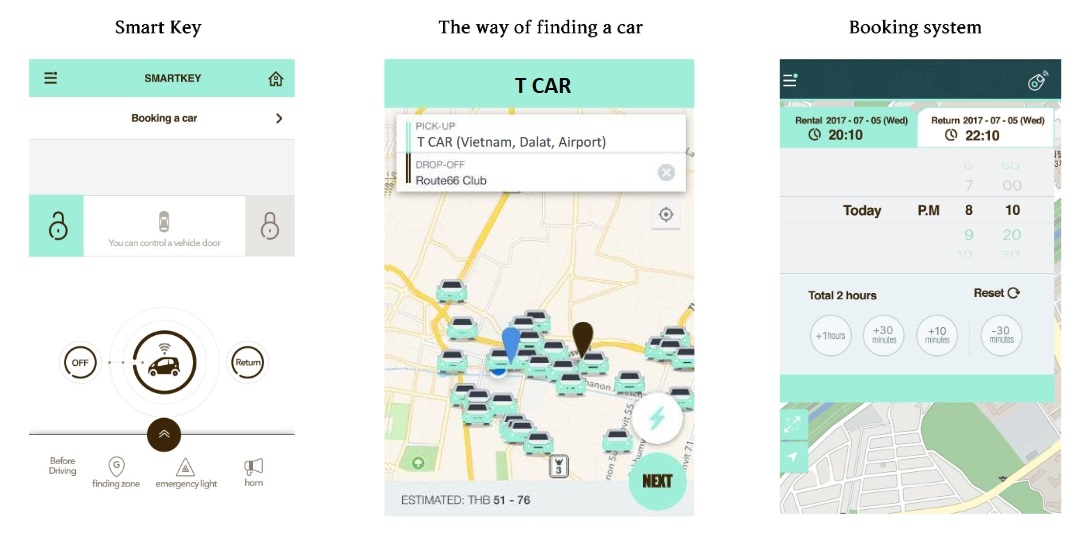 Detail Growth Strategy
1. Expand busimess boundary using O2O service

2. Expand T-CAR business boundary to other cities

3. Gian growth power through MOU with various business field

• Parcel delivery service system
• Call taxi cab service system
• Human resource service system
• Localized navigation service system
• Financial (Monetary) service system
• Accommodations booking service system
• Starting from Dalat, expand to surrounding cities
• Expansion plan to Phu Quoc, Nha Trang,..
→ Provide service to domestic and Foreign tourists in major cities of Vietnam
• Expand from personal customers to company customers
→ Bring up popolarization of car sharing and expand service range to general public
→ Provide business transportation method to foreign companies

• Gain active support and growth MOU with Government
• Gain active support an growth power through MOU with Taxi
• Start beta service through MOU with Taxi and apply the feedback
• Constant expand of T CAR Occupation by car investment support of Korea Motor Company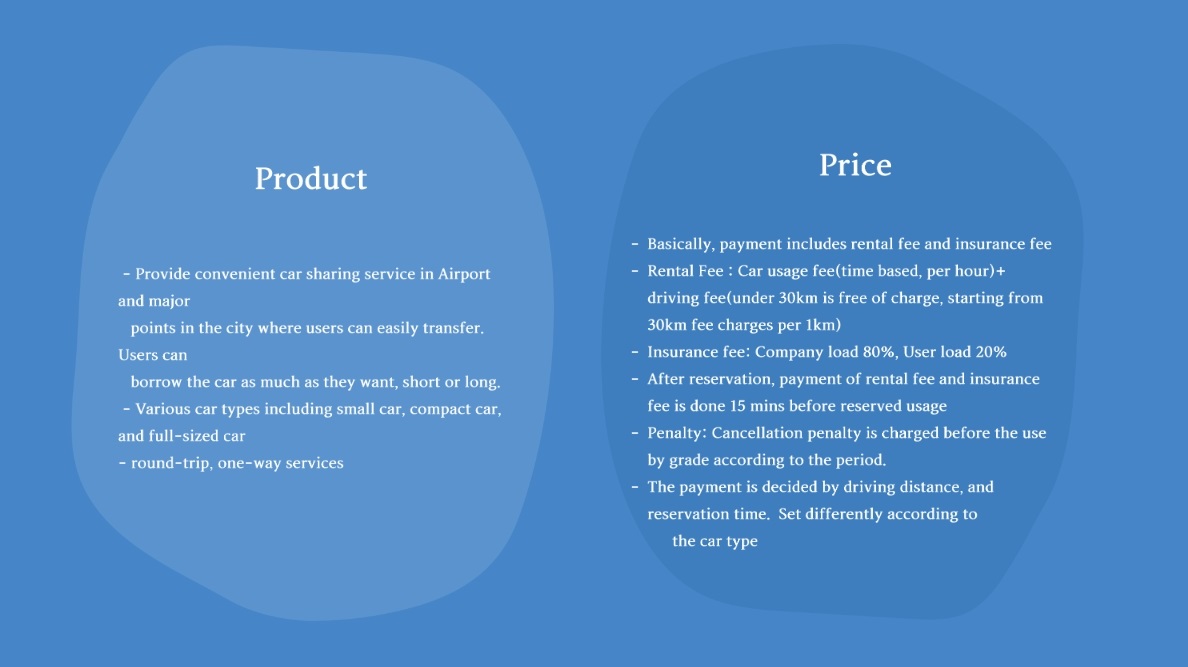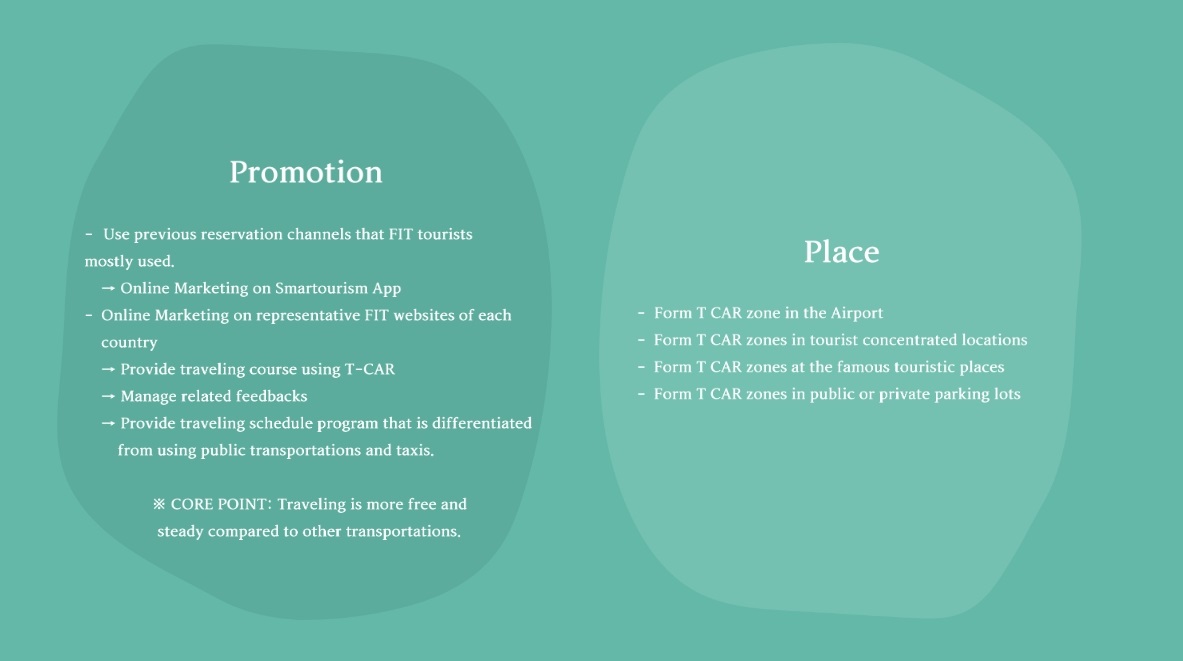 Benefit Creation Plan Details
Rental Fee Calculation
T CAR (Day)
Vietnam Rental Car
(Day)
Taxi
(30KM)
Moto-cycle Rental
(Day)
Bus
(Single-Ticket)
Price
800,000 vnd
~35 usd
800,000 vnd
~35 usd
300,000 vnd
12~14 usd
80,000 vnd
~ 4 usd

X

Note
Including
Insurance and Flue
(30KM)
Not including
Insurance and Flue
Including
Insurance and Flue
Not including
Insurance and Flue
Including
Insurance and Flue
Case in Dalat City